<! Text for the page goes here> <! Adrian The Candle Man logo image>
PartyLite Candles Australia Affiliate Consultant - based in Sydney Australia, with customers Australia wide. Offering unique candles, fragrance, and decor. Have an in home candle party or a virtual candle party and be rewarded with free PartyLite product.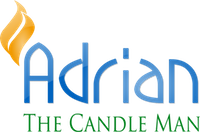 Candles, Accessories and Fragrance For You
Adrian is proud to be Adrian the Candle Man, and to be associated with PartyLite Candles Australia. PartyLite is a leading candle, accessories and fragrance company, with over 100 years of history. As a PartyLite Affiliate, or Consultant, Adrian is experienced in providing decorating and fragrance tips and hints. Adrian is based in the Inner West in Sydney, and has clients across Australia.

Our home is more than just somewhere to be, but should also be a place that we are comfortable and excited to be in. It should be welcoming, not only ourselves but to those that we choose to invite. This ambience is of course created by the style with which you have decorated, by the lives of the occupants (think kids and pets).

But don't neglect the critical influence that fragrance can have! Our sense of smell is the most evocative of all our senses. You can see a picture of a cup cake, but when you smell them in the oven you'll be taken back to childhood when mum was cooking a batch for your birthday party.
Free Fragrance Consultation and Candle Party
Adrian is so keen that everyone should benefit from a beautiful looking and great smelling environment, that he will give a free consultation so you can experience first hand the great products that only a PartyLite consultant can offer.

This may be be just you, some friends, or you can make a candle party out of it. Your candle party can be in home, or as an online (virtual) candle party. Whatever you choose, candle party hosts will also get a free gift to say "Thank You".

Find out more about your Candle Party

For a sneak peek at what will be available for your candle party, please browse the online PartyLite catalogue.

Of course if you know what you want, you can buy PartyLite candles and accessories anytime day or night. Just visit the Adrian The Candle Man online store at partylite.com.au/adrianmccowage.
For the Office
Don't forget the significant time you spend in the office. There are a great range of flameless accessories available, so you can still enjoy the fragrance, without OH&S concerns!
&nbsp

&nbsp Like Adrian the Candle Man on FaceBook for tips and specials.
&nbsp Follow Adrian the Candle Man on Instagram for inspiration.